Gift in Kind-Securities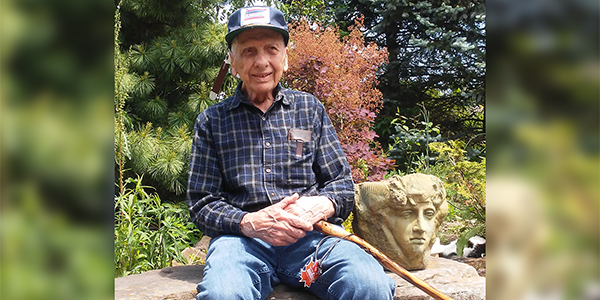 It's been 75 years since Moody alumnus Ronald Gray '40-'42 was killed in action in World War II. His twin brother, Donald Gray, is now 102 years old and decided to do something special to honor Ronald's life and legacy of ministering the gospel of Jesus.
Ronald and Donald were born in 1918 and grew up in East Canton, Ohio. Like most twins, they were close—"We did everything together," Donald says.
After high school in 1936, they worked in local steel mills for two years to save money for college. But after they studied for a year in Ohio State's electrical engineering program, Ronald felt the call of God to become a minister and transferred to Moody Bible Institute in 1940. He excelled in his studies and was paid a compliment by his Greek professor, who said that Ronald was one of his best Greek students.
While studying at Moody, Ronald also worked part-time in a downtown Chicago department store, served as a Sunday school teacher, and visited the sick in a nearby hospital. With World War II in full swing, his brother Donald graduated and served as an officer in the South Pacific. In 1942, Ronald made the difficult decision to leave Moody and join the war effort.
During infantry training in Camp Fannin, Texas, Ronald enjoyed assisting the Army chaplain during religious services. He went on to serve overseas with the 130th Infantry of the 33rd Division in New Guinea, Morotai, and the Philippines.
Donald served as an officer in the Pacific theater, but had been transferred to New Jersey when he received the tragic news about his brother's death in the Philippines, noted Juanita Donald's caregiver for the past three years. Donald chimed in, "That was the worst day of my life."
Ronald's story is now part of American history. After the devastating Battle of Bataan in 1942, Gen. Douglas MacArthur had issued his famous "I shall return" promise, and he did, with 175,000 soldiers who stormed Luzon in January 1945. The casualty numbers were staggering—10,000 American service members gave their lives, as did 200,000 Japanese soldiers and 150,000 Filipino citizens. By May the Battle of Luzon was mostly over, except for mopping up pockets of resistance from deeply embedded units. On the morning of May 18, 1945, Ronald's unit was on patrol, searching for a missing comrade, when he was mortally wounded and died before medical aid could reach him. Ronald was laid to rest in Luzon's Military Cemetery No. 1.
In his final letter to his mom, Ronald wrote,
It's cold here. I'm not kidding. At night two blankets are not enough. A wool sweater helps too. Now don't go sending me more scarves. The more things I have, the more I have to carry around! The rainy season has begun also. I feel pretty good about coming through the last three months and not getting hurt, as I wrote to Carol [his girlfriend]. God has been good to me. Maybe after another year overseas, I can go be back home.
By August the war was over.
"Ronald was always one of the most outstanding soldiers in his company," wrote Alan J. Kennedy, the "K" Company captain who wrote a sympathy note to his mother. "He was well liked and admired by every officer and enlisted man, and we all feel deeply the loss of such a true friend and comrade. Words can never truly express the value of the service he has done for us, and we will never forget the example of courage and devotion to duty that he set for our emulation." Mrs. Gray forwarded the moving tribute to Moody, where it was published in the student paper.
After the war, Donald married and had a successful career as an electrical engineer, working in the Space and Aeronautical Division of Goodyear. He traveled to all but two states with his wife, Nellie, who passed away in 2008.
In 102 years he has never forgotten his brother and the impact Moody Bible Institute had in training Ronald to serve God and others—which the scholarship will now perpetuate for other students.
"There was something that died in Donald when his brother died," Juanita explains now. "I think whatever emotions Donald might have had before—this is my own thinking—that a part of him shut down. He doesn't think with his feelings. But he loved that brother. And this scholarship has been something he really wants to do for his brother, to remember him."
Donald transferred a generous gift of stock to Moody to fund the Ronald Harrison Gray Memorial Grant. This scholarship will provide financial assistance to qualified undergraduate and graduate students who "exhibit a strong desire to build community and who model excellent interpersonal skills"—much like his brother did.
"Ron did not get to experience his dream. I'm sure he was ministering to every soldier he met. But becoming a pastor was very important to Ron. Pastoring might end up being on the battlefield or wherever. So we cannot interpret how that will be played out in the individual, but I'm just counting on it making a difference."
"It seemed like a good thing to do," Donald says simply.