Beneficiary Designation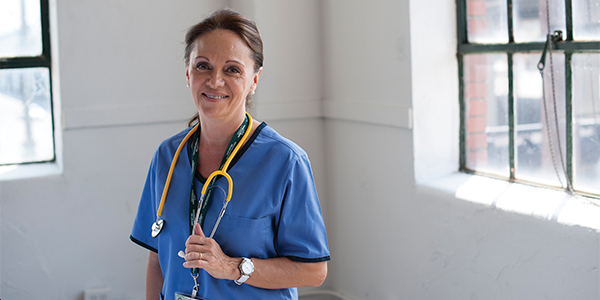 'The Lord Jesus Is Worth It'
"And he sent them out to proclaim the kingdom of God and to heal the sick" (Luke 9:2). Joyce, a 1962 graduate of Moody Bible Institute, printed this verse on her missionary support cards when she moved to India in 1967.
She grew up in a small Methodist church in Freeport, Michigan. Though her mother became a believer when Joyce was 12, her father did not convert until he was on his deathbed. Joyce was baptized in Kalamazoo, Michigan, while completing nurses' training. She had a vision for missions, but realized, "If I was going to be a missionary, I needed some Bible instruction."
Having heard about Moody from her pastor, Joyce began her studies as a Bible major in 1959. During her three years, she worked part-time at Passavant Memorial and Wesley Memorial hospitals in Chicago and formed lifelong friendships with fellow students Joyce Marrs, Agnes McDaniel, and Phyllis Linkenback. "I loved my time at Moody," Joyce says. "I really appreciated the knowledge that I gained there from the Word." Moody's annual Missions Conferences were especially influential in her decision to go to India.
Joyce was a nurse at a small mission hospital and served at a school for missionary kids in northern India. She lived out Luke 9:2, the verse on her prayer card, teaching Sunday school to a class of Tibetan boys and helping fight typhoid, smallpox, and other diseases that were rampant in the community. Joyce and her colleagues had few resources. "We went the limit, as far as what we could do with limited money and supplies," she says.
It was not until Joyce returned to the States, after five and a half years in India, that she fell in love. While working with the Red Cross in Kalamazoo and attending a church group, she met Joel, a military policeman and Kalamazoo native. Joel and Joyce were happily married for nearly 39 years.
Nearly a decade before Joel passed away in 2019, the couple decided to divide their estate between their alma maters. Their financial advisors suggested that they invest in a life insurance policy designating Moody as a beneficiary. Agreeing to a $1 million policy, Joyce and her husband had to make sacrifices to meet the $50,000 yearly premium. "My husband was very generous," Joyce recalls. "And we felt like what was given to us needed to be given back."
After they moved to Sarasota, Florida, Joel's Army pension supplemented Joyce's income as she worked full-time at Sarasota Memorial Homecare. By paying off their small house and sharing one vehicle, they were able to save money. "I collect coupons for groceries," Joyce says. "I'm not one who has to have the newest clothes or the newest shoes. There were a lot of things that made it possible to save."
After they began investing in Moody, they transitioned to Joyce's current church, Payne Chapel AME in Sarasota. Joyce says the community was very supportive of her when she lost her husband. Today she teaches a children's Sunday School class. "As I'm teaching my little class the books of the Bible now, I remember that it was Moody where I first learned them," she says.
Joyce believes that God's hand is on Moody, and she strongly supports the school's mission to reach the world with the good news. When considering why she and her husband were willing to sacrifice so much, Joyce says simply, "This life is only preparation for the future, and the Lord Jesus is worth it after everything that He gave."
*Please note: The image accompanying this story is not of the actual donor, Joyce.