CHARITABLE GIFT ANNUITY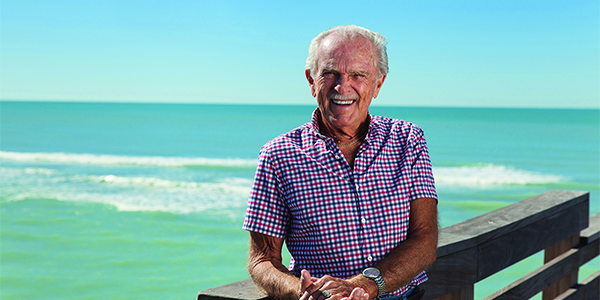 'You Get It to Give It'
Jack Blundell learned a long time ago that "you get it to give it." And that led him to make a surprising financial decision he's never regretted.
During a stock market downturn in 2002, Jack was unhappy with the unpredictable drops in stock value. One of his investors said, "What goes down, Jack, comes up," but Jack had another idea. Knowing that all of his money and possessions belonged to God and that the Lord blesses those who give to His work (Malachi 3:10), Jack felt divine direction to invest in something that would pay eternal dividends.
"We had already made a few investments at Moody, and I talked to my wife about it-I said, 'You know what? I'm going to take everything out of the stock market, and I'm going to give it all to Moody.'" His wife, Judy, agreed, so they partnered with Moody through the Charitable Gift Annuity program, which would also generate some income for their retirement years.
"I was so sold on the idea that even after we both die, our money is going to work for God," he explains. "We can enjoy some of the benefit now in our retirement here, and everything else goes to Moody for the kingdom work."
Why Moody?
"Because I love Moody-" he says, suddenly choked up, tears forming in his eyes.
After a long pause, Jack continues. "I appreciate what Moody's doing, representing Christ. What could be greater than investing in the proclamation of the good news through Jesus Christ?"
Now 81, Jack says, "I want my life to count for Jesus until he calls me home. And Moody had a lot to do with that."
Years ago, Jack heard a Moody faculty member play organ at his church in Superior, Wisconsin. That was his introduction to Moody Bible Institute. Jack's love for Moody grew after he retired with his wife in Venice, Florida. He happened to turn on WKES and was immediately attracted to the powerful preaching and Bible teaching. "I like this ministry!" he said. "I like what I'm hearing. What's this Moody Bible Institute all about?"
Jack began listening daily and learned about Moody's ministry of preparing students and equipping believers to impact the world for Christ. And what he learned was changing his life! He and Judy started a meal ministry at their church and began witnessing on the streets, beaches, and pier. "And that's all because of how Moody has helped me grow spiritually and what they're teaching me to do-what Jesus would have us to do."
As Jack and Judy gave to Moody, they were introduced to a Moody Stewardship rep, and they attended a seminar in Bradenton, Florida. They were convinced that a Moody investment "would win more souls for Christ until Jesus comes." After prayer and more counsel, Jack and Judy decided to invest all of their assets in Moody annuities-"probably the best investment we could ever make."
Two years ago Jack's wife passed away, and since then he sold their home, moved into a condo, and committed the proceeds to Moody Bible Institute.
"How could I not want to commit everything I have-in prayer, in finances, in love-to the Moody ministries?" Jack says, adding, "I don't have a whole lot of money in my checking account because when I get it, I give it. God has been so good to me; I just get it and I give it, I get it and I give it."